AN IMMERSION IN CONTEMPORARY ART IN DRUSENHEIM
Augmented reality at the Paso Museum, a contemporary art trail in a natural setting, gardens full of character, everything will make this an unforgettable experience!
Cultural Centre
Address
2 rue du stade
67410 DRUSENHEIM
Contact
03 88 53 77 40
www.pole-culturel.drusenheim.fr
Opening hours
| | | |
| --- | --- | --- |
| Lundi : | Closed | Closed |
| Mardi : | Closed | 2 pm - 7 pm |
| Mercredi : | 10 am - 12 am | 2 pm - 7 pm |
| Jeudi : | Closed | 2 pm - 6 pm |
| Vendredi : | Closed | 2 pm - 6 pm |
| Samedi : | 09:30 am - 12:30 am | Closed |
The cultural programme of this centre is as good as any you will find in a great city! The high-quality events will satisfy all audiences. Concerts and shows take place in the large, fully equipped hall with 341 seats. The online ticketing service allows you to book seats from your sofa.
In Drusenheim, art is everywhere! The city's cultural centre invites you to discover the works of Paso, the city's painter, displayed in the Museum that bears his name, and on an outdoor contemporary art trail that is open all year round. Paso does abstract and contemporary work and so much else besides! At more than 80 years old, his ideas are astonishing, and he has decided to use augmented reality for his works. You could pull out your smartphone and admire the paintings in 3D as well.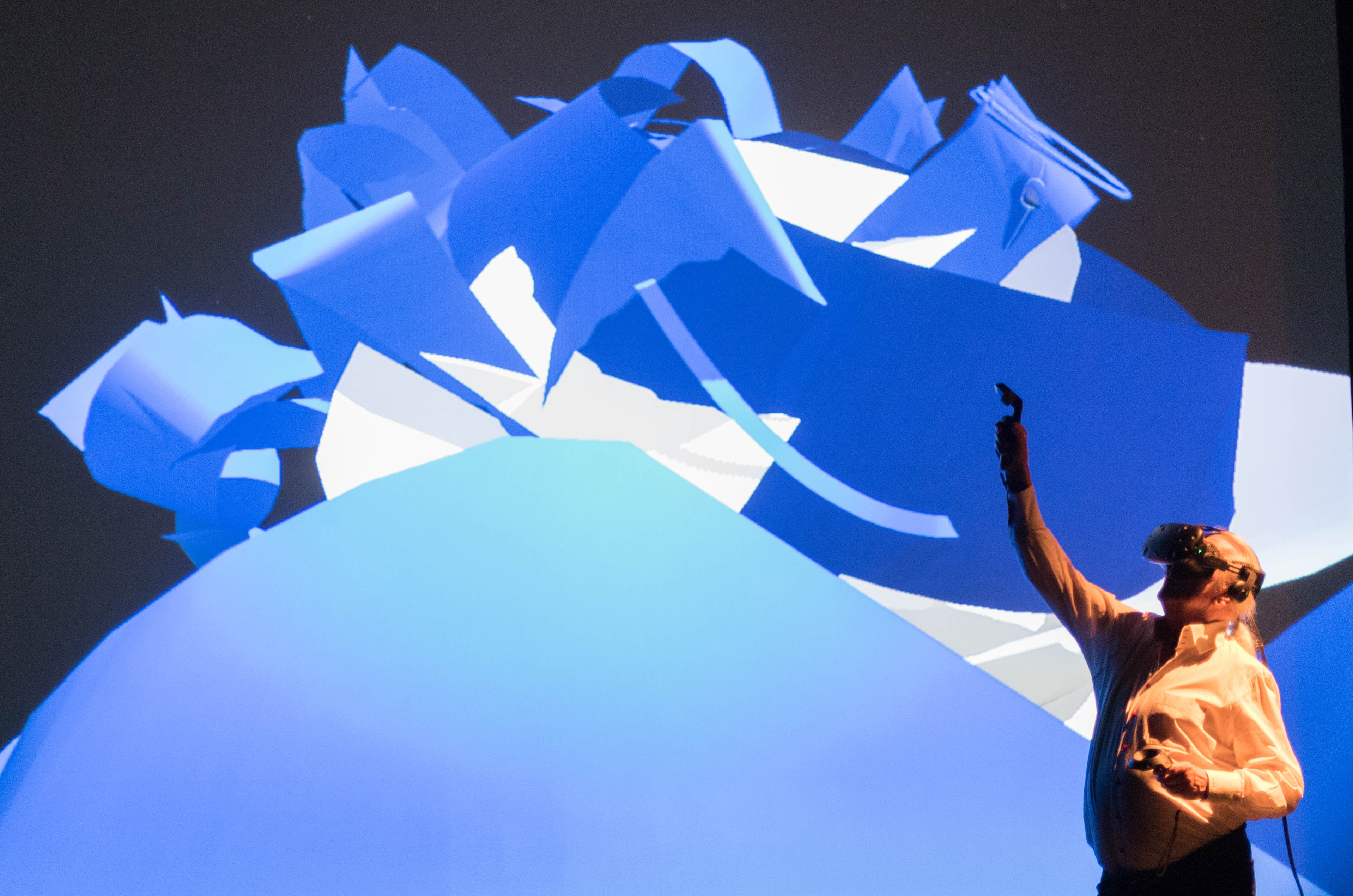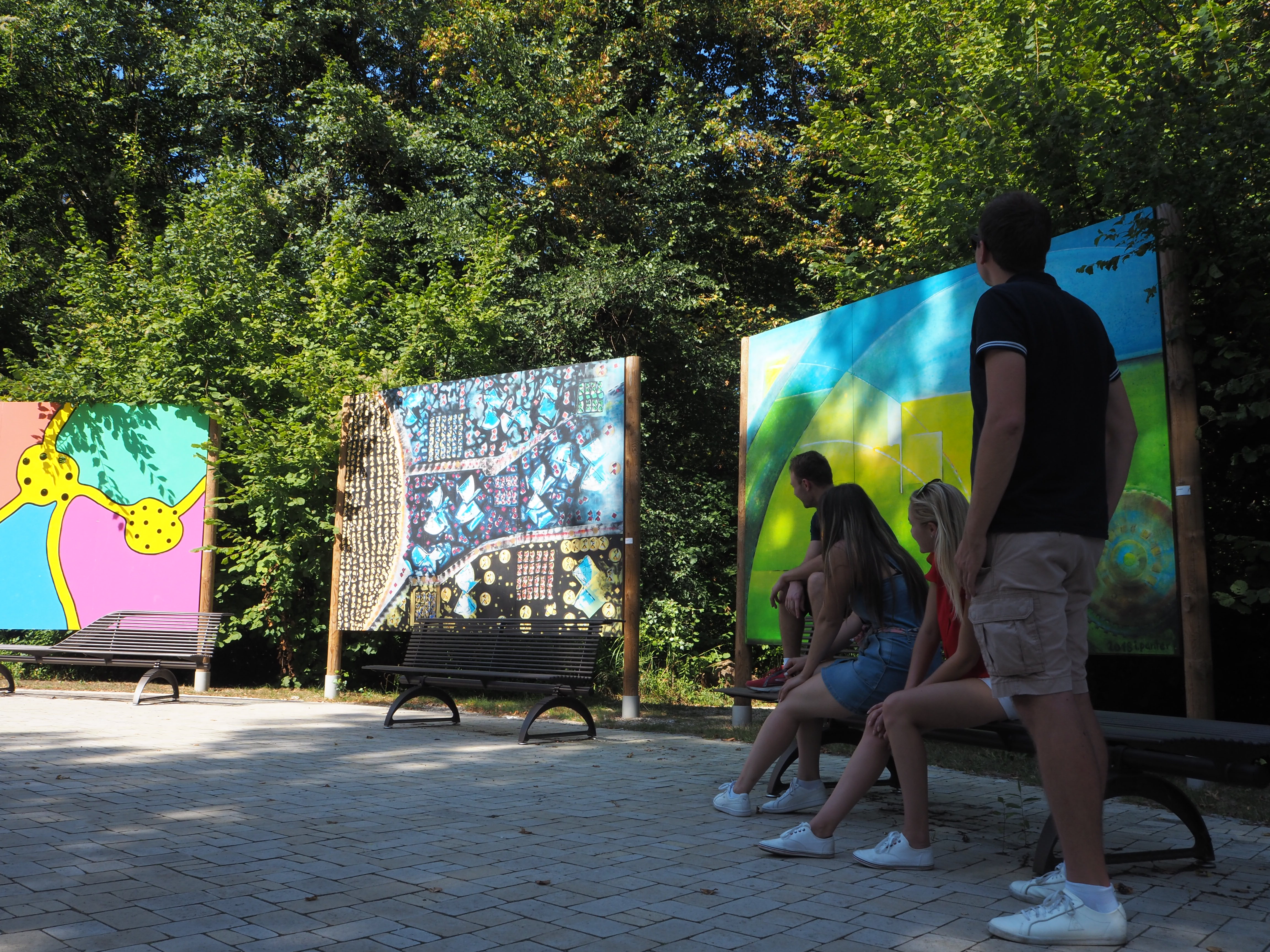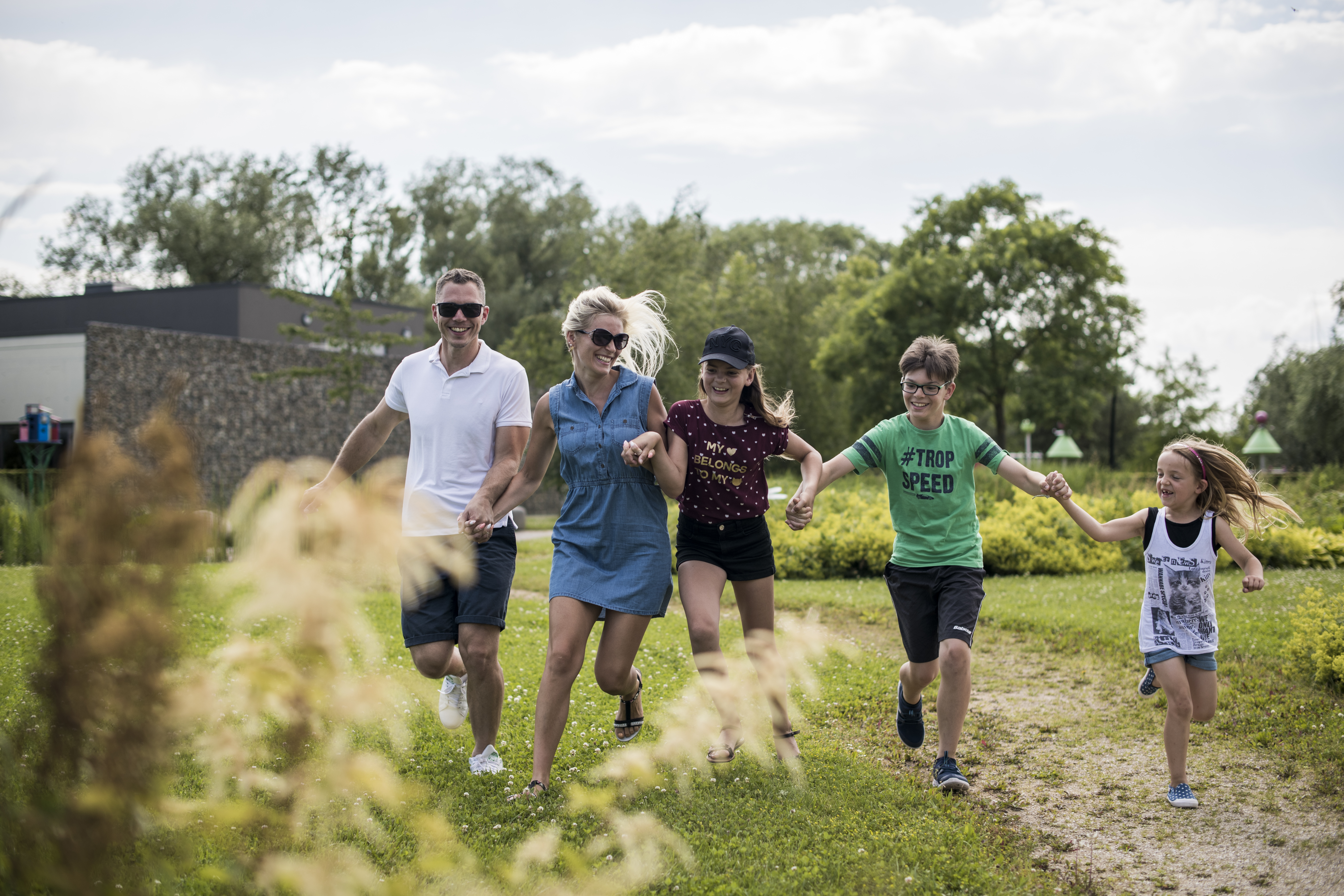 The Paso Museum
You are drawn to the museum dedicated to the works of the artist Paso. You are surprised and intrigued by the idea of contemporary art in the countryside. You enter this modern and impressively large building and reach the exhibition area on the left. Your heart starts beating faster as it is literally caught up in the bright colours of the paintings. The imposing formats immediately put you in a state of contemplative admiration.
Another colour of passion
What a blue! It is hypnotic! This colour, Paso Blue, created by the artist himself, is predominant in all his creations. It refers to the strength, vigour and liveliness of the Rhine, the cradle of the artist's childhood. Paso also likes to use other colours, giving his works unique luminosity and relief. You are transfused by Paso's passion for his art in this place where large spaces are deliberately designed to let your own emotions burst forth.
Visitors can continuously admire different works thanks to regular renewal, so prolific is the production. 700 canvases and drawings are displayed in turn in the permanent exhibition.
www.pole-culturel.drusenheim.fr
His unique art intrigues as much as it fascinates. Meeting with an outstanding local artist, whose works have travelled the world.
How long have you been painting?
I've always drawn. I was drawing before I could even walk. At the age of two, my mother could leave me alone at home with pencils. I made my first small painting (8 x 8 cm), and my first comic strip during the evacuation in 1939 in Haute-Vienne around the age of four or five.
At what point did you decide to make it your profession?
When I left primary school at 14, I wanted to become a painter. My parents were convinced you couldn't make a living with painting! An uncle encouraged me and introduced me to the director of the Ecole des Arts Décoratifs de Strasbourg, currently the HEAR (Haute Ecole des Arts du Rhin). I was allowed to sit the competitive examination in spite of my young age and was among the first to be selected. However, in order to be admitted, the legal age at the time was 21 years old. So I was declared emancipated at the age of 14. I graduated at the top of my class at the age of 19, and won the first prize of the City of Strasbourg.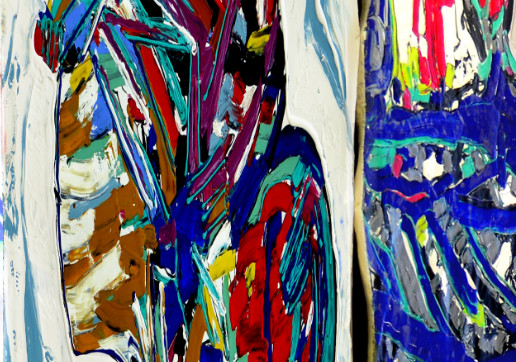 How would you define your work?
I'm on the borderline between the figurative and the abstract, but in the end abstraction prevails most of the time. On the one hand, the spectator sees non-figurative material, on the other hand, if they look hard enough, they finally see a human figure. I have painted drawings with more than one meaning, to give the viewer a chance to perceive one element or the other. Everything is movement, everything is vibration. It's all there and nothing's really there. Man in his carnal and spiritual complexity is my favourite subject but the splendour of nature also challenges me.
Your works have crossed borders, where have you exhibited them before?
I exhibited my work for the first time in 1954 in Sessenheim. Then later in Germany in a small gallery where a first work was purchased by the Curator of the Stuttgart Museum. From then on, exhibitions followed one after the other throughout Europe, in the United States or in Hong Kong... My works can be found in many museums and public collections (Senate in Paris, Sammlung Ludwig, Stuttgart Museum, Land Baden-Württemberg, Departmental Council of the Lower Rhine, United States, Moscow, to name but a few). I have made several structural works. One of them, "Le Jardin des Délices", from the Hortus Deliciarum (Editions La Diane Française-Nice) entered the Library of Alexandria
We know you paint in the dark and with tools made by you. Do you have any other secrets to reveal to us?
Indeed, I paint by candlelight to better dissociate the eye and the hand. I created my own tools for painting. These tools that I am the only one to use have allowed me to develop an original technique and thus a new type of painting. I also make my paintings with pigments that are often rare and pure, which give my works their power and luminosity.
Is that how you developed your famous Paso Blue?
Yes absolutely! Paso blue is an intense and deep colour, the result of many years of research. I use a pure and exceptional pigment. My "alchemy" allows me to keep all the superb and visual power of blue. Paso blue draws people towards the infinite... It is present in almost all my works and is omnipresent with touches of Gold in the last exhibition "Paso and Rhine Gold".
Where did the idea of virtual reality for painting come from? What does this add to your work?
New technologies sharpen my curiosity and push me towards new challenges. Proposals were made to me to experiment virtual reality as a medium of creation and augmented reality to discover my works in 3D. During a stage performance in 2018, that innovative approach allowed spectators to take an initiatory journey immersed in my painting. I wouldn't say that virtual reality adds value to my work, but rather a new vision. Thanks to this technology, for the very first time it was possible to enter my work and see it from the inside. The field of vision is enlarged. The invisible imaginative and creative process comes to life through virtual reality. It's an incredible experience!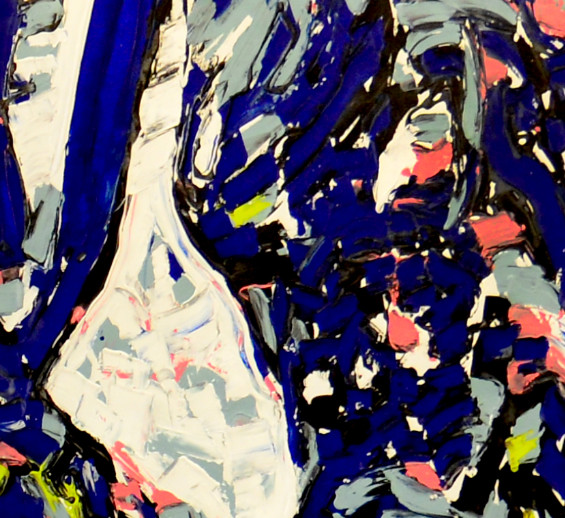 What place does the Rhine occupy in your works?
I was born in Drusenheim on the banks of the Rhine, a mythical river, a melting pot of culture, religion and trade. I have been inhabited since my childhood by the breath of the Rhine. In 2018, through a Rhine Gold exhibition at the Paso museum, I celebrated the beauty of the Rhine and paid tribute to the artists, poets, writers, humanists, philosophers, theologians... whose imagination has always been nourished by this majestic river. The Rhine is also the backbone of Europe, the theatre and witness to the turbulence of history and the reconciliation of peoples.
What are your next artistic projects?
I have many projects underway, but I don't like to talk about them before they are completed. In addition, a new book will be published soon.
What advice would you give to a passionate beginner in art?
Above all, don't let yourself be trapped in any kind of straitjacket, keep your own personality, be a free creator, away from the flood of preconceived ideas.
Link to the official PASO website www.paso.fr
Temporary exhibitions in the contemporary art space
You appreciate art and want to feed your thirst for inspiration. Your journey therefore naturally continues in the neighbouring hall where renowned artists or young talents regularly exhibit their work.
The media library, a place of culture and relationships
The large media library in Drusenheim is a haven of peace and refuge for culture. You will go to this bright space just for the well-being it provides to your mind.
More than 18,000 documents will nurture your knowledge.
We especially like:
free use by young people below the age of 18.
Workshops and courses for adults
Children's activities are also free of charge
Urban facilities and land art
Whatever the season, in this city known as one of the best flowered towns and villages, art installations make every journey more exciting.
Throughout the town, including on roundabouts, in the Altwasser Gardens Park, along the Moder River or on the bicycle path along the Allée du Rhin, minimalist sculptures with grandiose paintings keep company with residents and visitors alike.
At the end of the year, at Christmas time, Drusenheim lights up and comes alive even more to warm hearts.
Good idea
Try not to miss vernissages where you can discuss the art with its creators or with your family or friends, over a drink in the meeting area!